19 Methods of payments available
Powered by X-Cart.

EOTR Pty Ltd

Welcome to EOTR Pty Ltd

c D–Light™ are a new innovative product brought to you by the team at EOTR™ and is illuminated by a high powered lighting system. Use the c D–Light™ to display your very own image or sign. It is 100% customisable and you can change your message for any occassion. Please take some time to look at the site and enjoy the images we have created for other customers. We look forward to making your message to display to the world.





What are c D–Light's™???

c D–Light™ stands for cool Designer–Light. Visualise your custom artwork (or one of our images) fired up by up to 60 hyper–bright LED lights in brilliant blue , green , red , gold , orange , white or custom–colours such as 'hot pink' , 'turquoise' , 'purple people eater' , or 'moonlight' , housed in a crystal–clear standard CD Case and eye–catchingly bright! Super–efficient, run them non–stop off the mains power for a tiny $4.50 a year, with the 12V accessory plug in the car or with a 1 cent per–recharge, rechargeable battery pack… (read more)
Get the picture?

Pictures — that's basically what Moods Inscapes™ are. Interchangeable, totally customisable, internal artwork. They're the picture, message, slogan, text or graphics that fits inside your c D–Light™ and gets illuminated. Moods Inscapes™ come in a variety of finishes too. Pick from laser engraved crystal clear Glow Art™, stencil–like Bright Light Messaging™ (BLM) or double–printed Messages on the Move™ (MOM) transparencies… (read more)
Where would you use a c D–Light™?
…and what could you use a c D–Light™ for?
The potential uses for this light are limited only by your imagination. So the question is not "Where can you use a c D–Light™?" or "What can you use a c D–Light™ for?", but rather "How wild can you think?" We're looking forward to hearing what you have in mind! In the meantime, here are just some ideas our c D–Light™ fans have come up with… (read more)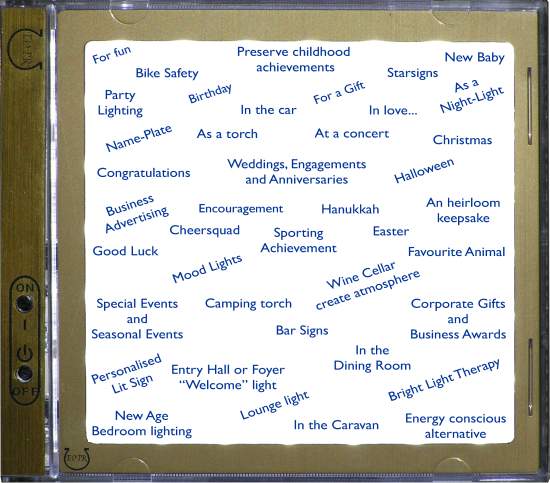 (Want to check out some photos of the c D–Light™ in operation? Click image to see me in action…)